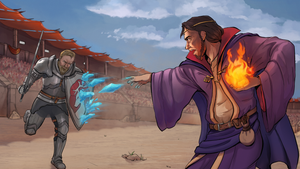 Champions of Akathena is a game of fast-paced fantasy combat for 2-6 players, and is suitable for all ages. Players choose from a roster of heroic Champions and their accompanying Reinforcements, then assemble into teams and battle to have the last Champion standing. Rather than using dice, Champions of Akathena uses a unique card-based combat system that rewards careful planning and resource management. Choose from a selection of powerful Advantage cards to customize your deck, but remember that your actions every turn are limited. Teamwork and careful positioning are essential to victory. Each game lasts for 20-60 minutes, depending on the number of players, and the range of unique Champions make every game a different experience. After Blood and Magic, further expansions will add more Champions and new ways to play.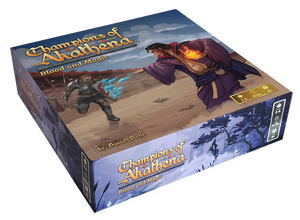 Blood and Magic
1 Rulebook
2 Maps
6 Character Decks
6 Character Sheets
1 Magic Item Deck
18 Miniatures
50 Terrain / Status Tokens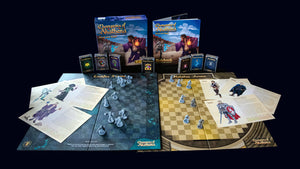 World of Akathena
Akathena is on the brink of war! Holding significant locations against our enemies is the key to the success of our campaign, but soldiers and armies are slow, and time is running out. Luckily, Akathena has several brave Champions available to defend against the evil that threatens to overrun our peaceful kingdom. Travelling with their Reinforcements, they clash in epic battles and forge alliances to ensure the ultimate safety of our beautiful home.